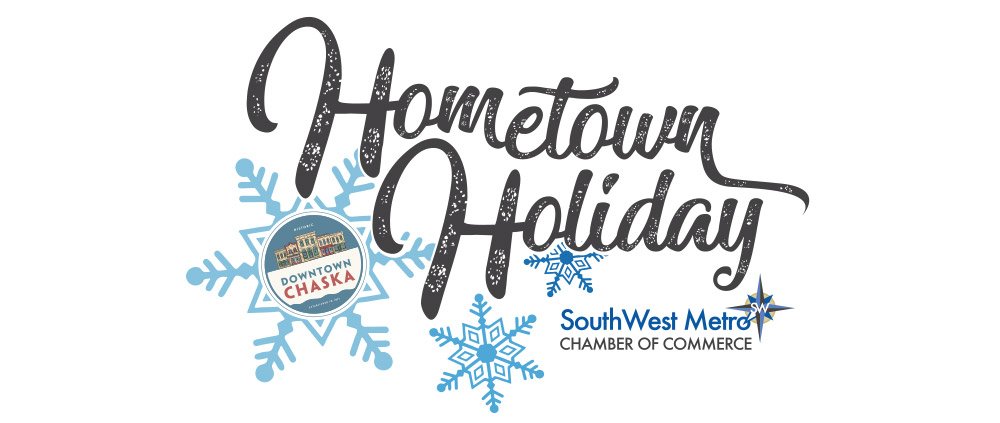 Celebrate the holidays in historic downtown Chaska!
Visit Chaska's historic downtown on Saturday November 30 for a fun filled day sure to get you in the holiday spirit. There is plenty to do throughout the day with activities for the whole family beginning at 1:00 in City Square Park.
---
Spend time together and celebrate the
holiday season with these great events!
City Square Park from 1 - 5pm
Join Santa and the reindeer for treats, pictures, and Christmas list sharing! Stay for the horse drawn wagon rides, crafts, bonfires, tree lighting, music, along with Elsa, Anna, & Reindeer! Also, Chaska Valley Family Theatre invites you to "Be Our Guest" - they'll be there with their popular prize wheel from 1-5pm providing some holiday cheer, fun treats for kids and discounted tickets to their upcoming performances of Beauty and the Beast www.cvft.org. Plus, visit other downtown businesses for more fun, games, sales, and specials!
Chaska History Center from 10am - 4:30pm
(112 West 4th Street)
In addition to narrating Chaska's history on the carriage rides from 1-4:30pm, we will be staffing the Chaska History Center from 10am-4pm. Come pick up your Chaska history books, gazebo photo prints, and Chaska bricks! Also, bottles of wine with Chaska gazebo labels are available at Dolce Vita - Each bottle purchased includes a $5 donation to the Chaska Historical Society.
Chaska Library from 11am - 2:30pm
(3 City Hall Plaza)
Enjoy coffee and snacks provided by the Friends of the Chaska Library. Coffee donated by Dunn Brothers. 1-2:30 pm Winter Craft Make and Take
Horse Drawn Wagon Rides from 1pm - 4:30pm
Walnut Street at City Square Park- Free tour of historic downtown boarding every 15 minutes. What a wonderful way to see the city!
Tree Lighting Ceremony City Square Park 4:30pm - 5pm
Join Elsa & Anna, plus treats to eat, bonfires, and the tree lighting with coloring contest winners. Visit and take your picture with Santa, Mrs. Claus, and the reindeer plus the live nativity animals.
---
Visit these local businesses to find gifts for yourself & loved ones along with food, drink, and fun!
American Legion Auxiliary | Holiday Market 10am - 4pm | Silent Auction until 8pm
Holiday Market includes vendors and bake sale. The proceeds from this event help fund many of the ways we give back to the community throughout the year.
Body Expressions Consignment Clothing | 9:30am-5:30pm
20% off Jewelry and Dresses.
Carver Junk Co.
75+ artisans represented in one space on Small Business Saturday at Carver Junk Company! Gifts galore, vintage and vintage-inspired decor, and we'll have all of the furniture you always expect if you're shopping for your own house, too. Join us for a Mini Wreath Make N' Take Saturday morning. Check out our Facebook event for more details and announcements.
Cooper's Foods | 6am - Midnight | Super Specials!
• Schroeder Milk all varieties 1.99 per gallon, Limit 1 Gallon
• Best Choice Butter 1lb quarters 1.99
• Dole Bananas 39¢ per lb - Limit on amount
• 3lb Bag California Navel Oranges $1.49
Dolce Vita Wine Shop | 1 - 5pm
Free Wine Tasting starting at Noon.
Fitness First of MN, Inc.
Stop in to our new location at 726 N Chestnut St between Nov 25 - 30 to register to win a Fitness First Holiday Gift Package. Pick up a gift card for a FREE strength training appointment - New clients only.
Linda's Cellar
Discounts thru out the store along with holiday refreshments.
Lynn Laumann Photography | 3pm-6pm
Holiday Shopping Boutique
Schram Haus Brewery with The Weenie Wagon
Enjoy plenty of cold beverages and warm food, or toast up your own s'more over the bonfire.
Sugar Creek Chiropractic | 11am - 4pm | Santa noon - 3 pm
Free photos!! Free crafts for kids of ALL sizes! Free snacks & hot drinks. Plenty of shopping opportunities for the parents and crafts for the kids.
FOLLOW US