Horse Drawn Carriage rides, Holiday Llamas to visit/pet, Music by Kids dance, & a visit from Santa with the tree lighting at 5!
In addition to the fun in City Square Park check out the great holiday specials below!
Click here to download your printable specials and your HOLIDAY BINGO CARD.
Lynn Laumann Photography
Home-Based Business Boutique to support small home-based businesses!
Townsquare Place
10% Discount on Nightly Rentals
Pan de Vida
Buy one item at full price & get the second item for 50% off
32 North Boutique
$5 off w $25 purchase
Body Expressions Consignment Clothing
20% off Jewelry & other sales!
Artem Haus
12/4 & 12/5: Paint An Ornament Event – $20 (includes ornament & hot chocolate!)
Chaska Library
1-2:30 pm – Stop in at the Chaska Library for a Winter Themed Craft!
Carver Junk Company
Merry Market ft brand new vendors!
Nothing But Hemp
Buy 2, Get 1 Free
Shop 501 & Company
Photo op on a vintage horse & sleigh
Linda's Cellar
Sales throughout store & refreshments
Chaska Historical Society
Open 1pm-4pm
Chaska American Legion
10am-4pm Bake Sale
10am-8pm Silent Action
7pm-11pm live music by 72 Paces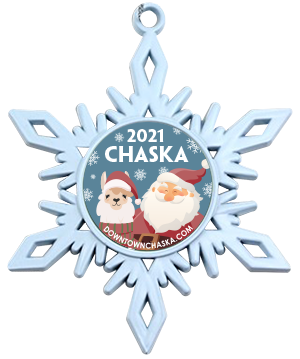 Receive a commemorative 2021 Downtown Chaska Ornament when you purchase from one (or more!) of these participating businesses!
Available while supplies last.
Townsquare Place
Schram Haus Brewery
Chaska Historical Society
Linda's Cellar
Shop 501 & Company
Nothing But Hemp
Artem Haus
Carver Junk Company
32 North Boutique
Dolce Vita Wine Shop
Little Roos
Pan De Vida
Body Expressions Consignment